University of Social Sciences is one of the leading private universities in Poland having 15.000 students and over 700 academic staff. There are 18 departments, including Language Studies, Culture Studies, Management, Pedagogy, Psychology, Sociology and IT studies. Some of specializations at Management and Pedagogics faculties are Psychology of Management and Vocational Counselling, Human Resource Strategies etc. SAN offers PhD, MA and BA studies, post-graduate courses as well as specialized training courses on daily, evening and weekend and extramural basis. SAN is also very active in scientific research, organisation of national and international conferences and publishing scientific books.
The university employs top class academic staff and renowned practitioners and specialists to provide high quality study programmes in both Polish and English languages. Our educational programmes reflect the needs of the rapidly changing world.
SAN cooperates with more than 30 universities and numerous organisations abroad. Since 2004, on the basis of bilateral agreement between SAN and Clark University (USA), a range of degree programs delivered in English has been offered in Łódź and Warsaw. Cooperation between these universities has become an excellent example of a Polish-American transfer of knowledge and skills both on academic level and on the institutional arena.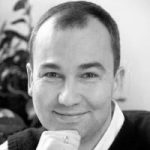 Robert Klarecki