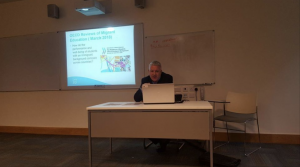 Dr. Bernadette Sweetman and Prof. Joe O'Hara of EQI DCU presenting on the E-Evalinto project at the Educational Studies Association of Ireland 2018 conference.
The ESAI (Education Studies Association of Ireland) 41st Annual Conference took place at UCD from 5th – 7th April 2018.  The theme of this year's conference was Values and Purpose in Education, a theme that is highly significant in the current research of the Centre for Evaluation, Quality and Inspection of Dublin (EQI).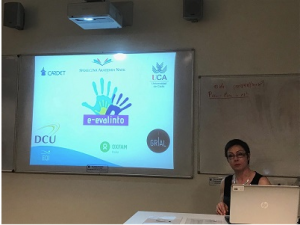 EQI, partner of the E-EVALINTO project, were well presented with researchers from the Centre presenting seven papers at the conference as well as chairing some sessions. One of the presentations was devoted to our project topic: "Tackling early school leaving in migrant populations through peer mentoring". An overview of the curriculum and online educational resources developed inside the project has been presented and a summary of the engagement in schools by the project participants has been outlined.
The Conference Book of Abstracts is available at http://esai.ie/conference-2018-book-of-abstracts/