Francisco José García Peñalvo and María José Rodríguez Conde of the University of Salamanca presented an overview of the research of the GRIAL group on multiculturality and educational innovation at the 5th edition of the international TEEM conference Technological Ecosystems for Enhancing Multiculturality, organized by the GRIAL group this year in collaboration with the University of Cádiz and the EVALfor group.
In particular, the track on Educational Assessment & Evaluation in Digital Society chaired by researchers of the E-EVALINTO team, was the framework for the presentation of the new trends on Assessment & Evaluation to a specialized group of stakeholders.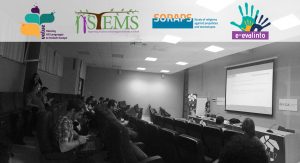 The GRIAL group is currently working on four Erasmus+ projects focused on valorizing intercultural teaching and learning from different perspectives: the promotion of multilingualism in classroom (VALUE), the training of teachers in dealing with the inclusion of migrant students (STEMS) and more properly on topics like contemporary religious pluralism (SORAPS) and the evaluation of the impact of peer mentoring activities as a methodological approach to foster the creation of an intercultural context at school (E-EVALINTO).